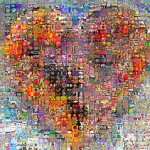 There are two things we need to know now and really only two:  love of self and love of others. Love is the foundation for everything else in our experience. We cannot live with integrity if we do not love ourselves. And that is key if we are to contribute as cosmic citizens in this year of 2017. It is not up to each of us to carry the world on our own, but it is up to each of us to do our part for what is required for humanity. And only love can make the difference.
Love is commonly misused and misunderstood. Love is not just romantic love nor is it about religious devotion as these are distorted with overlays. Too, we often hear people use "love" when they mean conditional acceptance, when they mean expectation, when they mean lust, when they mean neediness, when they mean control, and when they mean abuse. True love never diminishes or contracts us and it can only expand us.
There is a great deal that is enfolded in this one beautiful four-letter word. True love is a purity of consciousness. It embraces the totality of understanding of what it means to be Divine. It holds us steady in our inner knowing, awakens us to our vastness, and welcomes our unity. Love is the root of the great spiritual truths of all time. Without love there is nothing but data, darkness that is blind to empathy, or the development of human form without soulful wisdom. There is an absence of God.
We would be wise to use this word consciously for it is not something that can be tossed about any longer as though it has no meaning. It has great significance to our evolution right now.
To be love.
Building a loving relationship with ourselves is our first healing priority. It is not about indulging the ego, but rather respecting that all that one holds within and without the body, mind, emotions and Spirit, is created in the image of God, in true perfection. We all have wounds but we have choice about whether they continue to hurt us. We can criticize ourselves or turn our shadow and conflicts into treasures when we allow them to fulfill their highest purpose and expand us to our highest potential – when they we heal through them and they serve to liberate us. Our shadow cannot make us 'less than' or 'not enough' if we see ourselves through loving eyes.
Self-love does not just mean nurturing though it includes nurturing. It does not mean being selfish though it does mean honouring what feels authentically true for us. It does not mean operating from satisfaction-driven agendas, though it does include feeling content with ourselves and spiritually fulfilled.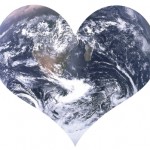 When we love ourselves we give permission to ourselves to flow with peace no matter what is transpiring. There is no condition that can deny this: nothing that was done by us or done to us can change this. So when we experience we do so through our Highest Self. When we elect to consciously change we to do so with the compassionate embrace of the Divine Mother within. And each and every time we have a decision to make we could ask ourselves how love would choose for the highest good of all. Then when we act through the Divine Father within we contribute these frequencies into creating a heart-centered world that is healed from its pain. We become the manifestation of the Krystal consciousness returned to Earth.
To love.
Loving others is an overflow of a full heart for ourselves. When we choose kindness, empathy, generosity, gentleness, forgiveness, and understanding for ourselves we carry the blessings of the Spirits of Christ and then we can truly offer this to another. It becomes an effortless extension of Self. Love doesn't require permission to be shared, nor is it ever diminished in its giving. But it can be overlooked as a precious valuable when we do not accept it.
To be loved.
To receive love from others is also an act of love for ourselves. It is an affirmation that we are deserving of this gift. We don't have to minimize, justify, or explain ourselves in order to receive it, nor do we have to do anything to get love, though this is the way it is often conditioned. Pure love is not exchanged as a reward for what we can accomplish nor what we prove ourselves to be. We do not have to make ourselves valuable or worthy – we already are.
Love can be given and received because it is possible, because it is the highest possible connection between God's creations, and because it is human.
Loving in 2017
This year will come with many challenges, as they all do. Perhaps we have set an intention for growth and change, or are choosing to nurture a specific quality in ourselves. Let's all remember though that love must be a present in our self-care. Love must be central in our healing, in the same way that it is vital to our hearts. Love must be amplified in order to evolve, and it must be intrinsic in our service to others. Nobody needs to give us permission to love. Yet, because so much of our collective history has dampened and darkened our hearts, I do suggest that we declare this permission to love to ourselves – make a commitment so that we can truly open! We are the Divine human remembering the truth that we are God's love.
There is love in your heart to share. Book a healing session to free the pain that holds you back.