My unexpected, sacred gift to restore your energy bodies to natural harmonic resonance.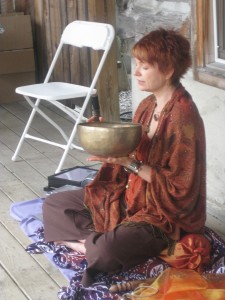 In our most fundamental form we are light and sound, so it is no surprise that we gravitate to harmonious tones. They have the capacity to stir our passions, touch our hearts, soothe our souls, and heal our bodies.
Sound healing often takes the form of using instruments (Tibetan singing bowls, tingshaws, bells, drums, rainsticks, crystal singing bowls, shakers, etc.)  to shift energies in the physical, mental, emotional and spiritual bodies, or bring our energies back into balance. I most often use only my voice for therapeutic healing.
A REMARKABLE STORY
The use of my voice came very unexpectedly. I sat in stillness for a few months meditating on my bliss, when one day I spontaneously chose to connect to Mother Earth's crystalline grid and I began to chant. I never had a "singing voice" and had no education in music. But this day, the sounds that came forward were other than my own. Of course, I was only the vessel for these sacred tones. Within a day, Spirit was guiding me to use my voice in the healing of clients, and opportunities flowed to me. It also became clear that my voice was also to be offered in service for the healing of wild animal kingdom.
People have often asked me where I studied or how I developed my voice. At first, I would respond "nothing", but I now tell them that I spent years healing and clearing the path to my authenticity. I know first-hand what it means to allow Spirit, and receive Her gifts effortlessly.
SOUNDS ARISE INTUITIVELY THROUGH ME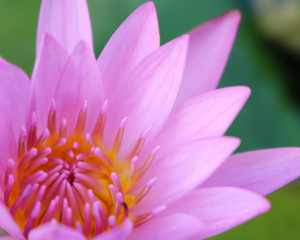 I set an intention to follow Spirit's guidance, and then surrender. I don't know what effect it will have on you or where it will lead. I trust. Moment by moment, I allow tones to come intuitively through my voice to shift energies and activate higher frequencies. In allowing these healing vibrations, the sounds are inspired through me to you. Free of words, they are authentic expression, offered to you to receive with intent, but without expectation. Your Spirit knows how to bring the benefit to you.
HOW THESE SOUNDS TRANSFORM
These sacred sound transmissions serve to shift dense energies and activate the higher energies. The sounds can be very specific in purpose, a melodic chant of healing tones, or harmonics.
This service is often synergistically integrated with other techniques within a healing session, but can be the primary healing technique in a session.
I have used the vibration of these sounds with clients to:
reignite stagnant energies in the body for healing
release old energies from chakras
release energies from past timelines
stimulate repressed emotions
shatter limiting emotional shields
repair auras
If you wish to hear & experience a healing activation please go to FREE Healing Chants.
"T

he tones plucked the strings inside of me and
after that, nothing was the same."
 KA  RA  YA  SA  TA  AA  LA*
* The 7 original tones of creation that organically emanate from the monad when Christ consciousness is embodied. These are the Krystal tones being returned to the Earth now.
SOUNDS FOR SACRED SPACES
The chanting I offer can also bring sacredness to soulful spaces. If you have a special event, it can be presented alone, combined with sacred ritual to set sacred space, or accompany a guided meditation. I chant without music or with the accompaniment of my Tibetan singing bowl, crystal singing bowl, bells and soft drumming, or meaningful and soulful, instrumental music.
Most appropriately, these sacred sound transmissions can be used at group gatherings to catalyze the higher frequencies and call in Spirit at the beginning of an event.
I have offered chanting to large and small groups in various settings:
Ottawa Sound Healing Conference
Fire the Grid global meditation event in Ottawa.
Accompaniment to gong meditation at PranaShanti Yoga Centre in Ottawa.
Winter Solstice Celebration
Ottawa Peace Concert
World Sound Healing Day event
Inspirational chanting for artistic painters.
Sacred toning for an afternoon social gathering that showcased painters, a writer and poet.
Other possibilities:
Sound energy for yoga classes
Peace ceremonies and gatherings
Wedding ceremonies
Soothing sounds for those healing from illness
End of life care
Are you intrigued? I'm open to exploring the possibilities with you.
WHAT PEOPLE HAVE SAID ABOUT MY GIFT OF SACRED VOICE
"Y

our chanting fitted in so wonderfully. The peaceful and joyful feelings it inspired in us all was just magical."

"..everyone felt your love radiating to us"

"…you really helped to create heart coherence in the audience."

"Your voice is angelic.  You have quite the gift.  Thank you for sharing it with us." 

"sonorous, beautiful, powerful"
Would your body, heart & soul welcome sacred sound?