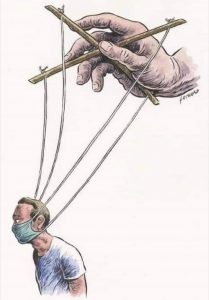 While studies have been cited by governments/Public Health Units advocating the use of masks as an effective approach to curbing coronavirus, there are also countless presentations, citations, and studies, including from the CDC, that argue against the use of masks, including that wearing masks have many associated risks and are harming. And yet, masks have been made mandatory for all, including those who are healthy, as though they provide protection, while infringing on our freedom of choice.
There are some very intelligent, courageous people speaking the truth, who have done the research and connected the dots so that we can all benefit. Feel free to share these videos and documents with others. These are just a few resources of the many I've watched and researched. Some of these may be censored, and if so, please look for them on BitChute or www.altcensored.com
Rocco Galati, Canadian Constitutional Lawyer and a strong leading advocate for Canadians' rights at this timing speaks directly to mandatory masking and scenarios when the medical exemption is not honoured by a business, employer or school. 
Please remember that 'divide and conquer' is negative alien agenda strategy to create conflict amongst us and disempower humanity's unification and awakening. So first please negotiate with any business/service/school in a manner that is respectful, and with a win-win intention, if at all possible.
Rocco Galati is offering to put together a means of recourse in scenarios where negotiation has not been possible and you wish to defend your rights. But he wants feedback as to whether this is desired and whether he should invest his time and resources. Now's the chance to speak up. Remember – masking is only the first step in restricting our freedoms. If you say 'okay' now this creates collective consent for more tyrannical restrictions, including mandatory vaccines.
See related link: Must Watch for Canadian Truth Seekers including the lawsuit currently filed with the Superior Court of Justice against Prime Minister Justin Trudeau, Canadian Chief Medical Officer Dr. Tam, Ontario Premier Doug Ford, Minister of Health Christine Elliot, Ontario Minister of Education Stephen Lecce, the Queen in Right of Canada and Ontario, and others.
Ezra Levant of Rebel News breaks down the masking by-laws and exemptions across Canada and your rights. 
The intention in this video is to help you understand the complexity of the by-laws and manage your rights. Here too they discuss how the by-laws are making business owners police citizens, and create conflict. (as of the date of video publication)
Mask exemption cards can be downloaded or purchased here. They are an excellent way to leave information with a business owner that is unclear about your medical exemption rights.
Canadian Local MPP Randy Hillier has some great videos including one about masking exemptions.
Excellent video with Dr. Judy Mikovits and Kent Heckenlively Sept 21/20
who wrote the book, Plague of Corruption. Simple, directly answering questions about social distancing and masks -based on science, kids returning to school, and just some common sense healing. The Case Against Masks
The Highwire: "Crimes Against Humanity" video: this is an excellent presentation addressing many aspects of this issue, including CA Mayor Defies Newsom Mask Order; Dr. Zelenko's HCQ Protocol Saving Lives; Kids & Masks: Are They Safe?; Informed Consent Action Network (ICAN) Sues NIH…Again!
"In Canada, the Ontario Nurses Association won two arbitration hearings against mandatory masking policies imposed on healthcare workers by hospitals. In both arbitration hearings, the published science was scrutinized to determine whether masks can prevent the transmission of respiratory viruses.  In both cases, the arbitration court found that there is no quality science showing that masks work to protect the person wearing the mask, nor those they interact with. In both cases, the arbitrations successfully struck down 'mask or vaccinate' polices in Ontario hospitals and found the evidence to prove that masks were effective against the transmission of influenza to be "insufficient, inadequate and completely unpersuasive."
Vaccine Choice Canada: Masking Reports and Citations
Michael Osterholm, infectious disease epidemiologist, served at CDC 1992-1997 and other numerous credits to his name – Masks June 12 2020:
Real-time measuring of dropping oxygen levels with the use of masks
Denis Rancourt PhD on COVID-19 data deception, masking and government malfeasance
D.G. Rancourt: All-cause mortality during COVID-19: No plague and a likely signature of mass homicide by government response
The Ontario Civil Liberties Association has posted several articles including:
CDC: Volume 26, Number 5 – May 2020 Policy Review, Nonpharmaceutical Measures for Pandemic Influenza in Nonhealthcare Settings—Personal Protective and Environmental Measures